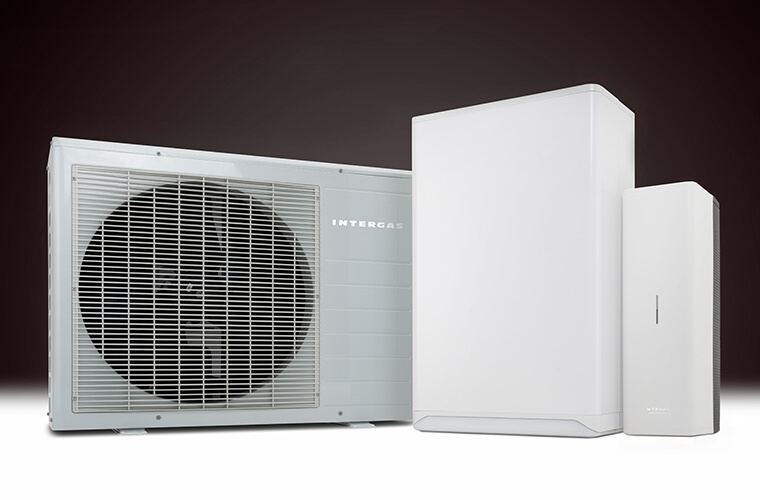 New Intergas hybrid can cut gas use by over 80%
Xtend is the new hybrid heating system from Intergas that will revolutionise how we heat our homes.
Developed by the Intergas R&D team in the Netherlands and manufactured at Intergas's state-of-the-art factory in Coevorden, Xtend a serious energy saver and will cut gas consumption by up to 82.5% when paired with any Intergas (ErP) combi boiler. Importantly, the Xtend Hybrid will provide the comfort of a traditional heating system, so homeowners will always have heat and hot water where and when they want it. They can also relax in the knowledge that the Hybrid heat pump, with a decibel level of only 36 dB(A) at five metres, is exceptionally quiet (a whisper is 30dB(A)). For installers Xtend has the added benefit of superfast configuration time which, thanks to the QR code on the indoor unit, condenses a 45-minute process to under 10.
The Xtend Hybrid system comprises an Intergas combi boiler (any Intergas combi, the choice is yours), an indoor control unit and an outdoor 5kW split Air Source Heat Pump, and boasts a range of features that makes installation hassle free, while giving the homeowner greater design freedom. The indoor control unit, for example, is one of the smallest on the market, providing more siting options within the household and the low loss header enables the indoor unit to be fitted anywhere within 15m of the boiler. The lightweight Air Source Heat Pump can be sited anywhere outside the property, within 25 metres of the indoor control unit, and measures a compact 68.9cm x 96.8cm x 36.2cm.
The Xtend Hybrid unit comes with a 7-year warranty when installed as part of the full Intergas solution and, if an Intergas (ErP) combi boiler is already installed, then Xtend can be retrofitted to that combi and the warranty increased by 2 years as part of the full Installation and Service option (Ts&Cs apply).
As all Intergas combis condense virtually all the time in heating and hot water modes, the energy efficiency of the Xtend Hybrid is improved still further. And, when the Intergas Comfort Touch control is paired with the system, the efficiencies continue as Comfort Touch recognises the appliances and automatically optimises their settings. Installers can continue to use the Service Dashboard for remote control, monitoring and adjustments, and homeowners can use the Comfort Touch app to turn their smartphone into a smart thermostat to control their central heating remotely.
Speaking about Xtend, Gary Rudd, Managing Director, Intergas Heating Solutions, said: "We are committed to reducing our reliance on fossil fuels and pushing high efficiency products that deliver large CO2 reductions across the broadest possible range of UK houses, which reduce the real-world energy costs of the home heating system. With our Xtend Hybrid we have a practical solution to decarbonising home heating and hot water production and, when the hydrogen infrastructure is in place, our natural gas boiler can either be upgraded to or be replaced by our Xplore hydrogen boiler for a 100% sustainable heating system. Right now, the Xtend Hybrid offers everyone a practical and economical route to greener heating. And, of course, our Intergas boiler plays an integral part in this; thanks to our bithermic heat exchanger, you're guaranteed efficiencies others cannot match."