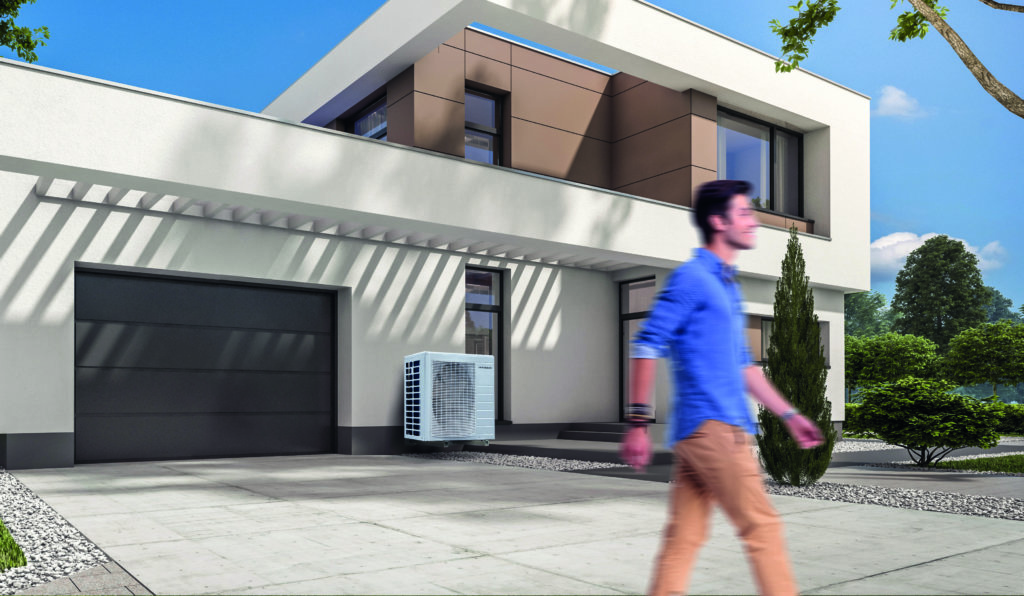 Hybrids or heat pumps?
Terri Hickman, Marketing Communications Manager, Intergas Heating Solutions, makes the case for heat pumps in the race to install low-carbon technologies.
 Given that 17% of the UK's greenhouse gas emissions come from our homes, it's essential that the UK transitions from fossil fuels to low-carbon heating as soon as practicable. The heating industry is well placed to effect change and we need to take decisive action in combatting climate change. At Intergas we believe that heat pumps are part of the decarbonisation solution. It's here, it's eligible for government-funded installation and training grants and is a highly efficient process, using heat from the air or ground to warm our houses, which will protect owners from the rising cost of energy prices. Heat pumps are gaining in popularity in the UK and awareness of the technology and its benefits are becoming more mainstream.
According to the European Heat Pump Association (EHPA), growth has been exponential. In 2022 annual heat pump sales increased by almost 38% and this was after the previous year's exceptional rise of 34%. The total number of connected heat pumps in Europe is now around 20 million, providing heating to about 16% of Europe's residential and commercial buildings. Norway and Sweden have led the way: Norway has just over one million heat pumps installed which run on almost 100% renewable electricity and Sweden, with more than half its electricity supplied by hydropower, wind power and biofuels, has two million. Countries like Poland, Czechia, the Netherlands, Belgium, Austria, Germany and Finland experienced exponential growth in 2021, between 100% for Poland and 66% for Belgium.  The UK, however, even with the lower than targeted uptake of the Boiler Upgrade Scheme (BUS), has performed spectacularly well with a 40% increase in heat pump sales*.
Intergas has been specialising in low-carbon technologies for decades and believes the heat pump is one of the best long-term solutions to combating climate change and the rising cost of energy. With the current economic conditions and the insulation levels of some of our homes, one solution can't fit all, which is why the hybrid heating system is the practical alternative for today. The heat pump will heat the home for most of the year, and the boiler will provide heat and hot water during the weeks when
temperatures dictate. With Intergas boilers condensing close to 100% of the time in hot water mode, it is the perfect partner for a high-yielding CoP heat pump and will ensure heat and hot water during the worst of winters. Here at Intergas we have a solution appropriate for the UK, saving up to 82.5% of natural gas on a year-on-year comparison in 'real world conditions', in 'real-world homes' and saving consumers 'real-cash'.
Hybrids won't cut emissions completely, but they will reduce gas consumption by between 60% – 82.5%. And, as hybrids can heat water to the same temperature as existing systems, there's no need to retrofit the radiators (assuming the radiators were correctly sized in the first place), making the installation less disruptive and more affordable. Hybrids will also ease the transition to a 100% renewable option; when the infrastructure's in place, Intergas's hydrogen-ready boiler can replace the existing boiler.
Going hybrid has the support of most gas installers. In a GasApp research study conducted this February, 74% said they'd rather fit a hybrid heating system in their own homes when given the choice between an air source heat pump, ground source heat pump, electric boiler or hybrid. The Committee on Climate Change (CCC) is on side too. The CCC has stated that to meet the 2050 target, 19 million heat pumps will need to be installed and hybrid heat pumps should be widely used by 2035.
At Intergas we believe incentivising hybrid installations would provide the catalyst to the UK's uptake of heat pumps, and we can't really afford to wait. Given the triple threat of climate change, our ageing housing stock and the rising cost of living, we need to recognise that heat pumps are only part of the equation to decarbonising our homes. What we need now is more choice and balance to deliver the solution which is what Intergas's hybrid heating system provides.
*Source: EPHA estimates based on expert opinion, January 2023
Heat pumps, powered by low‐emissions electricity, are the central technology in the global transition to secure and sustainable heating. 
Heat pumps currently available on the market are three‐to‐five times more energy efficient than natural gas boilers. They reduce households' exposure to fossil fuel price spikes, which has been made all the more urgent by the ongoing global energy crisis. Over one‐sixth of global natural gas demand is for heating in buildings – in the European Union, this number is one‐third. Many heat pumps can provide cooling, too, which eliminates the need for a separate air conditioner for the 2.6 billion people who will live in regions requiring heating and cooling by 2050. Heating in buildings is responsible for 4 gigatonnes (Gt) of CO2 emissions annually – 10% of global emissions. Installing heat pumps instead of a fossil‐fuel‐based boilers significantly reduces greenhouse gas emissions in all major heating markets, even with the current electricity generation mix – an advantage that will increase further as electricity systems decarbonise.**
**Source: International Energy Agency