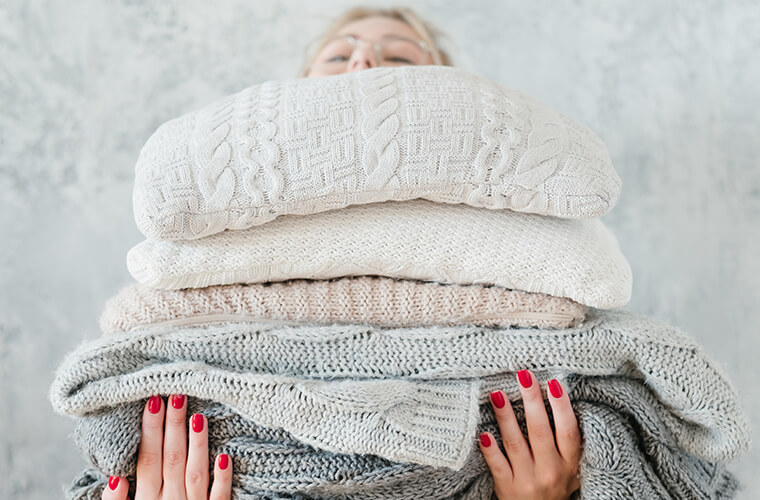 Your daily money-saving tips
Wearing another jumper to keep warm at home is not a bad shout, but why not run through our top tips to start saving money right now? There are some rather unconventional ideas, alongside the more obvious ones, but they will all help you make savings today!…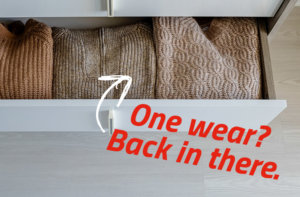 We're so conditioned to washing clothes after one wear, we don't really give it much thought. Sure, certain items must be washed after one wear but everything? Wash what you must wash, the rest… let them live a little! (When we were doing our research some of the mums admitted to picking through the dirty bin when the kids are asleep and returning hardly worn clothes to their owners. Relieved to learn we're not alone!)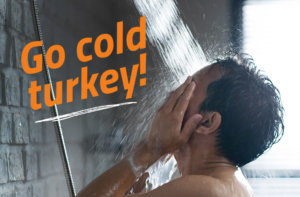 Do you really need to shower every day? Why not break the habit of a lifetime and take alternate days off? You'll save the money that would be spent on heating the water and you'll save water too. Let's face it, for the forseeable future we've got to adapt to survive, and is showering less so hard? Unless you're involved in vigorous exercise or work in an environment where you get dusty and dirty, you could easily shower every other day and use soap, hot water and a flannel on those you don't. If you could take a shower at a slightly lower temperature, you'll save even more on fuel too. (We're not suggesting you go full on Wim Hof, but a cooler shower could have health benefits too.)  Money Saving Expert, Martin Lewis recommends: savemoneysavewater.co.uk, which collates all the freebies available from the water companies around the country, such as the money-saving aerated shower head.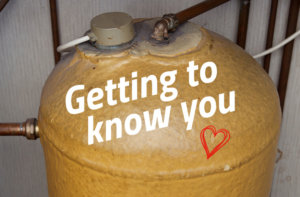 If you have a hot water cylinder (and nine million UK homes do) how long will it last before you need to heat the water again? If you don't know, it will only take a day or so to work it out; you might find that you can start saving money by not heating the water as often. You could also be losing heat from the cylinder itself: modern cylinders should lose no more than 2kWh a day and some lose as little as 1kWh; copper cylinders with loose red jackets can lose up to 4kWh, although the loss will depend on insulation thickness and size of the cylinder – the bigger the cylinder the more it will lose – but it can soon add up to over 1,000kWh a year. For practical advice on protecting your cylinder from heat loss, visit theheatinghub.co.uk.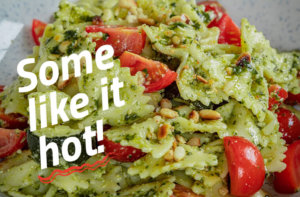 Hobs and ovens cost a lot to run so using them less is an instant win, but not everything can be cooked in a microwave and we want to eat food that's tasty and interesting don't we? Making one pot dishes that taste brilliant when hot and equally delicious when cold is the way to go, so we've had a dish specially created for you by Instagram chef Elliott Begley (eat_with elbert). It's a pasta dish with a lemon and fennel pesto dressing. Elliot says pesto is a great pasta dressing to have hot and cold as it stays fresh and won't congeal like other pasta sauces and you can get all the ingredients from your local supermarket. Here's the recipe if you want to get creative today:
Ingredients
400g pasta; 1 fennel bulb; 60 g of fresh basil; 2 tbsp of pine nuts; 1 lemon; 3 garlic gloves; 2 courgettes; 150ml extra virgin olive oil; 1 tsp fennel seeds (optional); 1 heaped tbsp parmesan (swap out for Nutritional yeast if vegan); 10-12 baby tomatoes
Method
Preheat oven to 200°
Dice courgettes into small chunks, roughly chop the fennel bulb and smash the garlic cloves to break the skin (but do not remove the skin).
Place the courgetti chunks, fennel and garlic in a roasting tray then drizzle with olive oil, salt and pepper. Keep the courgette and fennel apart in the tray, as the fennel is going into the pesto. Roast for 20 minutes.
Remove the basil leaves from the stems and grind in a pestle and mortar (or a food processor). Using sea salt here will help break them down. Then add pine nuts and fennel seeds and continue to grind.
Boil a large pan of water, and add salt to the water until it tastes a bit like seawater. Cook the pasta.
After 20 minutes in the oven (or once softened) remove the fennel and garlic from the tray and place the courgette back in the oven for another 10 minutes.
Remove the skin from the garlic, add it to the pesto along with the fennel and continue to grind this up. Add the juice of one lemon, olive oil and nutritional yeast, season to taste and your pesto is done!
Once the pasta is ready, reserve a mug of the pasta water, then drain the pasta. Add around 3/4 of the pesto (save the rest for tomorrow) and the courgette to the pasta and combine. You may need to add a little pasta water depending on the consistency you want. Top with pine nuts and voila!
Next day just add some chopped-up baby tomatoes, the leftover pesto and a drizzle of olive oil to the pasta and you're good to go with your second meal!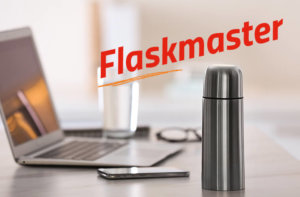 Kettles are expensive to run but, once you've boiled the water, pour it into a flask so you don't have to boil the kettle again. You can still have your cuppas throughout the day but you won't be using any more electricity. If you're at home or working from home, this one's tailor-made for you.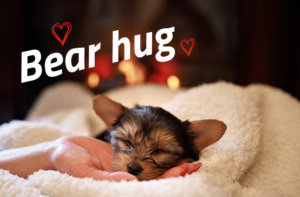 Familiar with the Teddy Bear blanket? As the nights get colder and you're keeping the thermostat on low or you've turned the heating off, this amazing blanket could make really good company while you're watching TV. Made of lightweight fleece it's unbelievably warm… but why does it keep you so warm? Well the warmth comes from the heat of your body, not the blanket and the  blanket needs to trap that warm air. Both wool and fleece fabrics do this equally well, but fleece so much lighter than wool and, let's face it, cuddlier too. It's not expensive either, but you should shop around to get the best deal.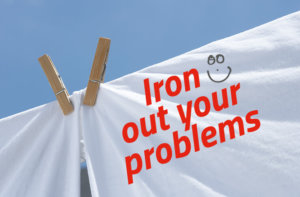 Any appliance that emits heat will be far more expensive to run than one that emits light or sound. You're probably already cutting down on your heating and hob and oven use, but that iron's expensive to use too. Cut out the problem by precision pegging! Whether you're hanging your clothes on the washing line or airer, try to hang each garment so it has as few creases as possible. When it dries, you won't need the iron at all. OK, there's no escape from 100% cotton, but everything requires less ironing if there are fewer creases. According to the fair price comparison site: choose.co.uk a tumble dryer costs 56-84p/kWh, a kettle, 84p/kWh and the iron, 22-70p/kWh.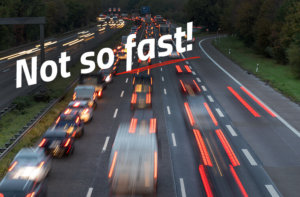 We can't control the cost of petrol and diesel, but we can control how much of it we use by just driving a little more slowly. Putting your foot down eats fuel, so try using a light right foot, accelerate gently and remember that the speed limit is just that, not a target! A heavier car will use more fuel too, so don't keep stuff in the boot you don't need and don't leave roof bars or the roof box on if they're not needed because they create drag and you'll use more fuel. This is common sense, but Turlough Downes, professor of mathematics and astrophysics at Dublin City University, has applied his knowledge of aerodynamics to fuel efficiency, to understand how drivers can save money. A driver on a 45-mile journey from Manchester to Leeds, using an average car, can save around £4.30 at a speed of 50mph, rather than 70mph (the savings are similar whether using petrol or diesel). This calculation was made using the current average price of a litre of petrol at the time, which was £1.62… you'll save even more now!!
Sharing isn't just caring, it's a money saver. Remember car sharing? Why not find neighbours who work in the same area or go shopping to the same supermarket, and use one car instead of two? While you're there, you can exploit more of the special offers and bulk buys. Finally, and this might be a hard one to accept but it's worth considering… share the washing machine! It's better value for money to wash a full load in your machine, but if you live on your own it might take a while, so if your neighbour's likely to have lighter loads too, could you share?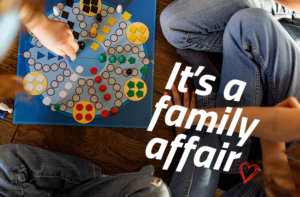 Once a week get the whole family together for a games night. It could be as simple as playing cards, Scrabble or Boggle, but this way you only have to keep one room warm. The added bonus is that everyone has a break from their screens and, who knows, a games night could be habit forming… a little like those quizzes in lock down!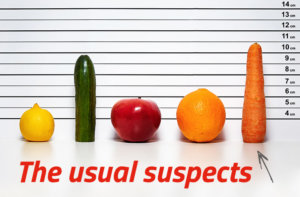 We know you know this, but just in case you don't, these websites will help you to buy food and other products more cheaply and, if you're feeling entrepreneurial, sell the stuff you don't use:
Get the Too good to go app and you can search for unsold food near you and buy and collect it for a great price: toogoodtogo.co.uk/en-gb/
Get the Olio app which connects neighbours with each other and with local businesses so surplus food (and non-food too) can be shared, not thrown away: olioex.com
Dresses and tops you haven't worn in years still in your cupboard? Get on Vinted, which does not charge any selling fees and start earning: vinted.co.uk
Loyalty cards are great, but are you using them wisely? Spend a little time checking out the benefit to make sure you're not missing out.