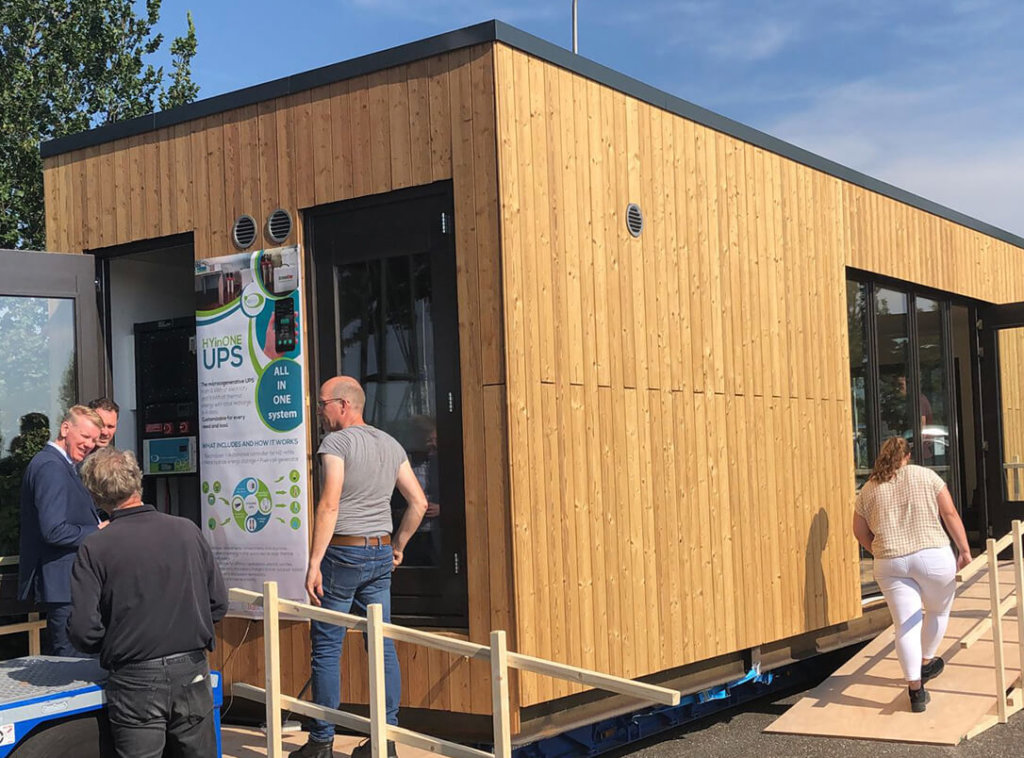 Our journey to 100% hydrogen
In 2018 we opened a new R&D lab specifically to work on creating a prototype boiler that would run on 100% hydrogen. We got there, and we're now at a stage where we can provide heating solutions that are 100% green. We wanted to share our journey with you, which led to another amazing journey using the aptly named Tiny House. The Tiny House is a room on wheels; it measures 3.45 x 11.95m and is heated by one of our prototype hydrogen boilers. We decided to take our house on a roadshow around the Netherlands so everyone and anyone could not just take a good look at the boiler but experience the heat and hot water it provides first hand. But more of that later.
Hydrogen boiler development
Gerrit Zijlstra, project manager for hydrogen at the Intergas lab, said: "For me, it's fascinating to be involved in integrating new hydrogen technology into a tried-and-tested product like a boiler. The first question I needed to answer was "how can we convert an existing boiler so it can burn pure hydrogen?" The searchmeant going back to the basic principles of combustion technology. The differences in physical behaviour between hydrogen and natural gas soon became clear. For example, with natural gas its conductivity is used to monitor the flame. In contrast, a hydrogen flame is not conductive and is almost invisible so, a solution to ensure flame monitoring had to be found.
With a wide range of test setups and open burners, Zijlstra got to work. Great collaboration by the entire development team, consisting of specialists in electronics, physics, embedded software, engineering, certification, IT, product management and marketing, ensured rigorous scrutiny and enabled them to find solutions to potential problems.
"We brought ebm-papst on board at the start of our work on the hydrogen boiler," said Zijlstra. "We suspected early on that the gas valve and the blower would play a crucial role and ebm-papst provided prototypes tailored to the characteristics of hydrogen."
Hydrogen-heated Tiny House
Together with a variety of like-minded project partners in Hoogeveen, it was agreed to build a small mobile home made entirely of sustainable materials and heated with an Intergas hydrogen boiler. This was an ideal pilot for our first H2 boiler. A major challenge for us was that the technology was further along than the regulations, so we were unable to use certified components because the certifications simply didn't exist. This hurdle was overcome by executing extensive risk analyses, incorporating the advancing knowledge from the European 'Testing Hydrogen in Gas Appliances' project. With all the necessary tests and investigations completed, the Kiwa certification was attained and Tiny House could start its journey.
In September 2021, Tiny House embarked on its tour as an ambassador for green living. Various municipalities, schools and residential areas were visited across the Netherlands where they could see how hydrogen was being used for heating first hand. The tour concluded in April 2022 with Tiny House staying three days in front of the house of the Dutch parliament so MPs could experience sustainable heating for themselves.
From Tiny House to a very big green step
By the time Tiny House reached its final location in Hoogeveen, Intergas was about to start its next hydrogen project: 33 homes in a village in Groningen, all built in the 1970s, will be connected to a hydrogen network at the beginning of 2023. The heating and hot water will be provided by a hybrid system using hydrogen boilers and small heat pumps from Intergas. "With a hydrogen boiler we're ready for a sustainable future, we just need the infrastructure to be in place," Zijlstra added.