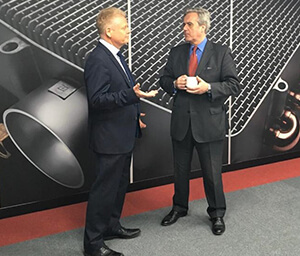 Mark Garnier MP opens new Intergas training centre
This March, local MP, Mark Garnier, officially opened the new training centre at our Kidderminster head office. He was already pretty clued up on our boilers, especially the two-in-one heat exchanger, but he didn't have a clue about our low NOx models. Although we covered this in our February newsletter, we don't think we can say this often enough… the new Xclusive and Xtreme boilers have the lowest NOx emissions of any domestic boiler in the world. This is what Mark had to say: "I had no idea of the design technology that goes into a boiler and these new low NOx models are a feat of engineering. It's great to see a business actively engaged in helping people to reduce their emissions. Consumers are increasingly conscious of both their carbon footprint and the value for money they get, and these boilers will help on both fronts." These boilers emit as little as 17.06mg/kWh and the Xtreme, with its built-in passive flue gas heat recovery unit, will reduce CO2 emissions still further.
Installers in the Midlands area can now receive free training on the installation and maintenance on the Xtreme and Xclusive, and on the rest of the range, at the centre in Kidderminster. If you'd like to get involved, click here.