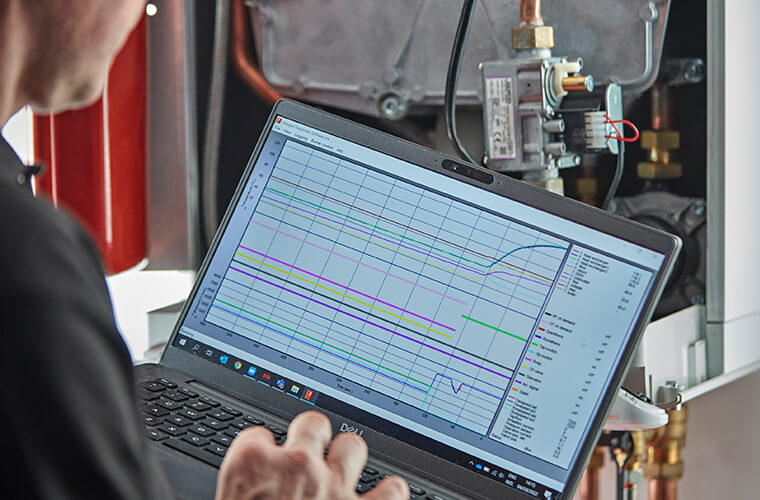 Money-saving software
The cost-of-living crisis means we're all constantly looking at different ways to curb household expenditure, especially when it comes to heating our homes. In response, Intergas is introducing Intergas Diagnostic Software (IDS), which gives installers and their customers a new route to energy saving. IDS provides instant access to the burner control units of all Intergas boilers enabling an installer to gain boiler performance insights on fault history, parameters, extended parameters, RF parameters and RF parameters 2. Installers can also commission a boiler, produce and send detailed information on boiler settings to landlords and build a reliable picture of its historical operation to make evidence-based decisions on the required level of service and maintenance.
While this depth of statistical information is also available via the Intergas Dashboard's remote management facility (except for HRE and Rapid models as neither has been fitted with an RF module), not all homeowners are comfortable with the level of intrusion involved in remote management. Now they'll be able to see, first-hand, a visual display of how many operational hours were spent in central heating and domestic hot water modes for example, along with gas and water volumes used for central heating and for showers/baths/basins. With this information installers can advise their customers on suitable controls and relevant upgrades, including low-flow taps and showerheads to reduce water use, to improve efficiency and lower bills. All that's needed is a USB cable that connects the PC to the boiler (IDS does not recognise Apple products, eg iPad, MacBook etc) and you're good to go.
Intergas runs a bespoke training day for IDS which covers installation and setup, data access and storage through to advanced commissioning and evidencing. Only installers who are MiREG+-registered are eligible to receive this training which can be booked through the local area sales manager.
Speaking about the introduction of IDS, Mike Hook, Intergas Training Manager said: 'Saving energy reduces bills and lowers carbon emissions and, with IDS, even the smallest changes can result in significant savings in both the short and long term.'