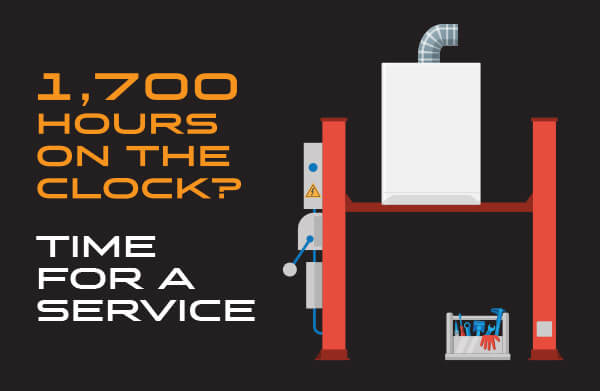 1,700 hours on the clock? Time for a service.
We've taken a leaf out of the motor industry's book and will start servicing our smart boilers based on usage rather than a date in the diary. Every Eco RF boiler that is installed from 1st May 2019 will now only need to be serviced after 1,700 hours of operational use, rather than every 12 months. The RF technology embedded in the boiler, together will the Intergas LAN Gateway, enable you to track boiler performance remotely from a specially developed Service Dashboard. You'll receive an alert when the boiler is approaching 1,700 hours so a service visit can be arranged. Once market uptake has been assessed, the new low NOx boilers, the Xclusive and Xtreme, will also become eligible for a 1,700 hour service.
Speaking about this new servicing scheme, Stephen Zouch, Managing Director, Intergas, said: "It has never made sense to service a boiler based on an arbitrary date in the diary. If you don't use your boiler for months at a time, why should you pay for a service at the end of 12? Using data from the Netherlands, where Intergas's RF technology has been in operation for the past seven years, the optimum time to carry out a service is after 1,700 hours of usage. The motor industry has used this system successfully for decades, and we have the ability to do the same."
This is a fundamental change to the way boilers are serviced. Not only will it cut down on unnecessary servicing, it will provide you with an opportunity to grow your business from existing business. Now you can monitor boiler performance regularly and remotely, update customers on potential maintenance issues, which can often be resolved off site, and introduce new products or services where appropriate. This level of customer care is not possible when your only interaction is arranging the annual service, and evidence from the Netherlands shows that customers will pay for this support.
To track hours of operational use, you will need to buy the LAN Gateway. The Service Dashboard will give you a detailed view, in real time, of boiler performance, and the facility to change parameter settings or alert the customer to a potential problem. There's a free app too, so you can monitor performance on the go. If a customer doesn't wish to use the monitoring and maintenance technology to carry out the service at 1,700 hour intervals, then the Eco RF must be serviced annually.